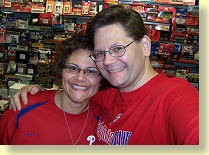 We're Steve and Heidi, a brother and sister from Philadelphia, Pennsylvania; and we opened Sportscard Playground in 1996. We're honest, hard-working, and very committed to building relationships with our customers. That's what it's all about for us ... taking care of our customers by providing a great selection, reasonable prices, and a family-friendly environment. We're happy to say that we have many of the same customers since 1996, and it's been a neat experience to watch 10 year old kids grow into 30 year old adults! We now have the next generation of customers bringing their kids here, which is both delightful and makes us feel very old!.
We specialize in boxes. We have the largest selection in the area and carry every brand (both sports and non-sports) ...even obscure ones! Many of our boxes are available for individual pack purchase as well. While we have some products dating back as far as the 1980's, most of our products are more recent, and we do not carry vintage items at all. We have a nice assortment of single cards (including jersey cards and rookies), especially of local players. We carry miscellaneous sports novelties, including autographed items, bobble heads, McFarlane figures, and Riddell products. Team sets are a must for our customers, and we offer them for all of our home teams and assorted other cities. We're known locally for our jersey card grab bags (available in all sports and guaranteed to have a jersey or autograph card!). They're a popular seller and great gift item. We also carry gaming cards and supplies. Our longest running gaming product is Magic:The Gathering, followed by Pokemon and Yu-Gi-Oh. For Magic, we carry packs and boxes. For Pokemon and Yu-Gi-Oh, we also have singles and grab bags. If there's a product you want that you don't see here, ask us. We can often get it for you!
Sportscard Playground is very community oriented. We are annual supporters of the Big Brothers/Big Sisters Association of Bucks County, the local Make-A-Wish Foundation chapter, Girl Scouts Cookie Drive, and Toys-for-Tots. We also proudly support all local schools, churches, and PTA's with prizes and raffle baskets for their annual carnivals and fund raisers. We have in the past provided items for other charitable endeavors, including the Breast Cancer 3 Day Walk, MS, MDA, and local beef-and-beers for those in need in our community.
A little bit about this website...please take your time looking around. We hope you'll find a lot you want to look at. We're especially proud of our CARD GALLERY and FACEBOOK PAGE (there's a link at left that takes you right there...please LIKE US on Facebook after that!). We spend the most time updating these areas (Facebook often daily). We want you to know what is NEW in the card world and happening here in the store. HEIDI'S BLOG, our E-NEWSLETTERS, and then definitely FACEBOOK are great sources for that information! So please peruse the BLOG, sign up for our E-NEWSLETTER, and LIKE US on FACEBOOK! Thanks everyone!