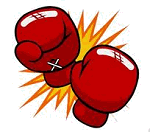 PACK WARS is a store staple, as events go. We try to hold one every six or so weeks (usually on Saturdays at 1:00), and our customers have come to know what fun to expect. But if you're a newbie, let's discuss exactly how it works.
It costs $50 to play, and for that $50, you are given a stack of packs (generally new and of various sports) with an average of at least two hits (jerseys, relics, autos). Sometimes we're able to offer almost 3 hits depending on what products are used, but we guarantee an average of at least 2. [Note that I'm using the word "average". It IS possible that one person could get no hits and another person 6 ... it has happened. The best we can do is deal with averages].
Each person opens the same pack at the same time, and we ask a question ... like, "Who has the tallest player?". People yell out their answers based on the cards they have, and the winner receives a raffle ticket. At the end of all of the rounds, we give out prizes by choosing these raffle tickets. We ALSO give out some prizes to players who don't win rounds. We have a separate colored raffle ticket that everyone gets, and we give out a "Participation Prize" at the end (and sometimes several prizes at the beginning if we have a lot of players). This way, you never have to win a round to still be a winner.
Every pack you open and prize you win is yours to keep. You can't lose anything in this type of Pack Wars. That wouldn't be any fun!
What I love most is seeing all of the hits. With an average of at least 2 per person ... that's a lot of cool cards to go around, and we've seen some nice (and valuable) ones! We had a Ted Williams bat card at a recent Pack Wars! Also, we give away extra packs to round winners along with raffle tickets, so if we know that 4 hits should have been pulled by the group based on a given box having 4 hits in it; but we've only seen 3 of those hits and we have 2 extra packs left over to give away,,,suddenly those 2 packs have become much more valuable because they should have that 4th hit! Ironically, that's how that Ted Williams bat card was "found"!
Pack Wars is fun for all ages. We can help out younger players or anyone needing a little more time finding their answers. If the $50 is too steep for one person, two players can form a team and share their cards and prizes. Hopefully, this answers your questions. Feel free to call and talk to me (Heidi) with anything else you want to know.

September marks the start of our two annual football contests ... our store's own "You Pick the Winners Football Contest" and "The NFL Player of the Day Football Contest". Together, both contests yield our customers FREE PRIZES EVERY DAY and FREE $15 GIFT CERTIFICATES EVERY WEEK (with BIG GRAND PRIZES). Let's discuss each contest.

This contest starts in September when the first official week of football does. Every Wednesday, we make entry forms available listing that Sunday's football game match-ups. To play, circle the team you think will win from each match-up. Entry forms are due back on Saturday at 5:00 (we don't count Thursday night or Saturday day games). The person who makes the most number of correct guesses wins! It's that easy. Each week, we award a $15 GIFT CERTIFICATE to the person with the most correct guesses. We do this EVERY week. Each weekly winner then gets to compete for the GRAND PRIZE of a $100 GIFT CERTIFICATE during the play-offs. We also award RUNNERS-UP (those people determined by the necessity of the Monday Night game ... only used in the case of a tie breaker) a $40 GIFT CERTIFICATE.
This has become an annual tradition at Sportscard Playground and creates a lot of excitement in our store. As of 2016, we've been running this contest for 14 years! It starts at the end of September / beginning of October (exact date changes each year) and lasts for 30 days straight. Each day, a specific NFL player is featured in the store (the "Player of the Day"). If you pull a card of that player from a Panini branded pack, you win. It's THAT easy. To make winning even easier, there are two Wild Card players designated who you can pull that also make you a winner. In addition, anyone who buys a box of football cards automatically wins!
The daily prize varies, but is often a free pack of some sort (Panini has been supplying us with special Player of the Day 2-card packs for the last two years). Every daily winner is entered into a raffle for the weekly prize (which is on display each week and often includes a t-shirt and some packs). Weekly winners are then entered into the raffle for the GRAND PRIZE. This is one of the largest prizes we give away each year. The GRAND PRIZE often tops $200 in FOOTBALL CARDS & NOVELTIES. The GRAND PRIZE is on display throughout the 5 week contest. We've always received a tremendous response from our customers, and this 30 day period proves to be a lot of fun. It's easy to look forward to this contest because we give away FREE prizes every day and it encourages customers to open HERE (win-win)!
These have proven increasingly popular here at the Playground, in part because of what we're able to give away. Previous GRID PROMO GRAND PRIZES have been a MIKE TROUT AUTOGRAPHED PHOTO, ANDREW LUCK AUTOGRAPHED PHOTO, MAGIC JOHNSON AUTOGRAPHED JERSEY, CAM NEWTON AUTOGRAPHED MINI HELMET, MARCUS MARIOTA AUTOGRAPHED JERSEY, JAMEIS WINSTON AUTOGRAPHED JERSEY, and some HUGE GIFT CERTIFICATES. Many of you are familiar with grid promos at super Bowl parties. There is a 10 x 10 grid, and each block is randomly assigned a pair of numbers. The way this promo works is that you buy a product that earns you a block in the grid (lists of products that earn you blocks are made available during the promotion). Once the 100 blocks fill up with names, we randomly assign numbers and teams to the grid so that each block holder knows what points make him or her a winner. We usually give away as much as $500 for each grid...a GRAND PRIZE (examples of which are mentioned above), and lots of GIFT CERTIFICATES. The big prize money makes this an exciting promo, and we use the concept not only at Super Bowl time; but also at other key times of the year.
As the subject would suggest...every FATHER'S DAY and BLACK FRIDAY weekends, we have a special PANINI PACK GIVE-AWAY. We buy specific product from Panini, which earns us these special packs; and we, in turn, let you buy ANYTHING Panini branded from us to earn those packs. Now what are these packs all about? Our customers look forward to these two promotions each year, and the packs are similar. They're special two card packs (in a variety of sports) with 3 or so hits (autographs, relic cards) in every 10 or so packs. Additionally, there are short printed parallel versions of the regular cards (cracked ice, hyperplaids) and numbered cards you can pull, even if you don't get a hit. Another fun aspect to the packs is the relics used. The 2016 Father's Day packs featured colorful hat and glove cards of football players and large chunk of towel cards from both basketball and football players. Black Friday packs often feature pieces of Santa Claus caps (Santa Claus style caps with the team logos are given to the athletes to wear), as well as the aforementioned towel cards. Other fun, different items used in these promotions is game used pilons and 1 of 1 sketch cards hand drawn by the player. Panini always has unique surprises in store with these promo's.
We tend to make an event around the pack giveaway, often having Pack Wars on Saturday and sheets of specials available with ways to earn extra packs.
In 2016, we had both a National Hockey Card Day and a National Baseball Trading Card Day (sponsored by Upper Deck and Topps, respectively). Each had a FREE PACK associated with it. In fact,one lucky customer pulled a Kris Bryant autograph card from his FREE National Baseball Trading Card Day pack; so these give-away days are worth attending! Each is usually accompanied by other fanfare (think raffles and prizes), and like the Father's Day and Black Friday promos, we make an event around the give-away and usually have Pack Wars on Saturday.
We like to have fun at Sportscard Playground and reward our customers for shopping here! We've had a few FREE autograph sessions over the years with Scott Rolen, Garth Snow, and Greg Lewis. Because we want to offer FREE signings, we can't have them as often as we'd like, but our e-mail newsletter customers and in-store "regulars" are the first ones to hear about these special events (and receive priority). Please make sure you're one of them